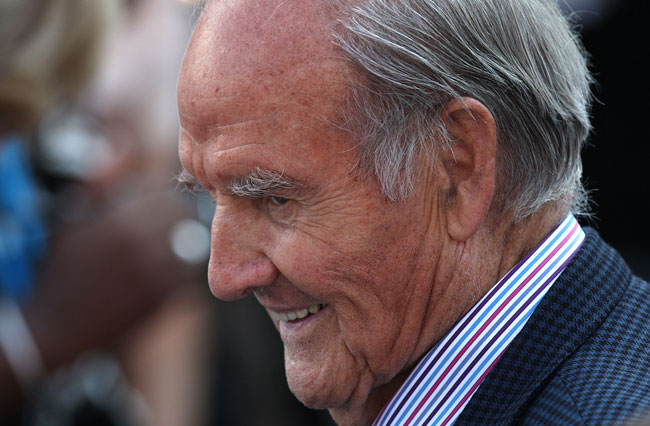 A highly political eighth-grader who hated Nixon with a passion, I showed up in the winter of 1972 at the McGovern for President headquarters on Cambridge St. in Boston. It was a hectic, disorganized office helmed, if memory serves, by former Kennedy press secretary Pierre Salinger. Our candidate was one among a constellation of better-known figures starting with Maine's Senator Ed Muskie, the prohibitive favorite--until he showed emotion after an attack on his wife by the editor of the Manchester Union Leader. I will never forget that first Tuesday in March when the returns rolled in and we realized that George was taking second place--vaulting him to the front of the pack. Before the Massachusetts primary in April, the campaign sent me to every part of the city, from Haymarket to Ashmont. I recall the squinty stares I got from suspicious commuters at Andrew Station, who were more inclined to vote for Scoop Jackson--or George Wallace--than the pinko liberal from some Gawd-fahsaken snowdrift in the Midwest. (Lesson learned that season: campaigns will ask
anything
from small thirteen-year-olds.) I took considerable personal pride when our guy won the primary, and then it was a long, bruising, improbable ride to the Miami convention in July.
On the morning of July 13(at 3:00 a.m.!) that McGovern won the nomination, I was out of the country, traveling through Aberdeenshire on my own. The news of the Eagleton fiasco reached me at a youth hostel in the Grampians. I bawled over
The Scotsman
until the landlady told me to pull myself together. There was at least the vindication of Watergate, and the smug pleasure of proudly displaying our "Don't Blame Me, I'm from Massachusetts" bumper stickers (which we had to look back on with shame four years later, after the busing crisis, when Scoop Jackson and George Wallace came in first and second in that year's Massachusetts primary).
I never lost my affection for George McGovern, however, and it was a pleasure a few years later to be his neighbor in the Kalorama section of Washington, D.C., where we walked together several times down Connecticut Avenue and talked about politics, and where his lovely wife Ann would infuriate the neighbors by feeding the pigeons (superfluously, most believed) in Kalorama Square. I felt a little guilty that I hadn't voted for McGovern when he ran again in 1984.
Over the years I've followed his career with affection, pleased (if bemused) when he followed us to Connecticut and bought the Stratford Motel (I think Jo attended a conference there when he was the proprietor), and deeply saddened by the tragic death of his troubled daughter Teresa in 1994 and the loss of his beloved Ann five years ago. It was always a joy to hear his unvarnished, gentle, Great Plains accent on Fresh Air or the Diane Rehm show or the Colbert Report in recent years. We would have had to have been a much calmer, kinder nation than we are to have elected him president; but that he did so well in that spring and summer of 1972 speaks well of us.